SpillFix
2-in-1 Spill Absorbent & Sweeping Compound
2.25 Gallon Resealable Pouch
USE THIS MULTI-PURPOSE GRANULAR ABSORBENT FOR:
Emergency Response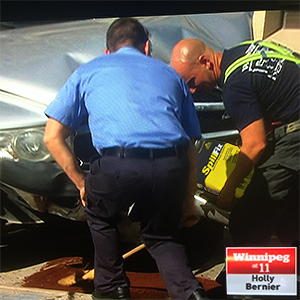 Essential spill cleanup tool for school buses, trains, trucks and construction vehicles.
Safe, simple emergency response cleanup at accidents and spill incidences.
Building Renovations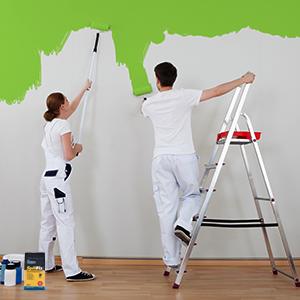 Handy to cleanup paint spills and for cleaning out paint cans.

Sweep up dust created by sanding, glueing, sawing, scraping and polishing during renovations.
Sweeping Compound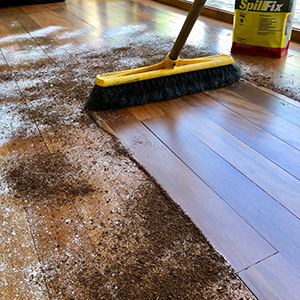 SpillFix is the ultimate all natural, chemical free Sweeping Compound that will even cleanup other sweeping compounds.
Use to tamp down toxic silica dust on construction sites.
Janitors Best Tool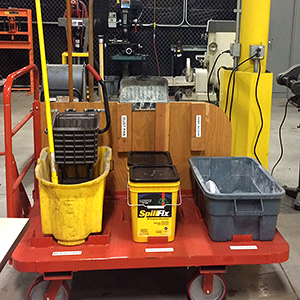 SpillFix is a Janitors best tool for fast effective cleanup leaving zero residue.
No need for secondary cleanup with detergents, mops and buckets after using SpillFix to clean nasty spills
Essential to have a bag or Jar of SpillFix handy when working on the boat, in the garage or workshop!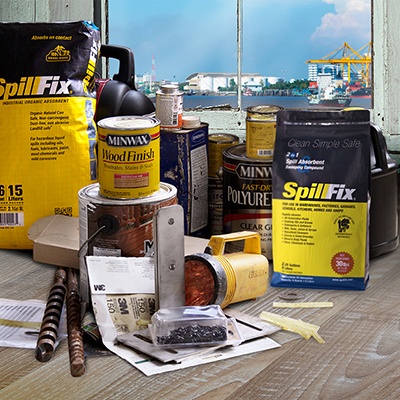 Handy for any renovation job
Will absorb any spilled materials used while doing maintenance on your boat.
Essential to have a bag or jar of SpillFix in your RV or Motorhome for those accidental spills.
Renovating the house make sure to have some handy.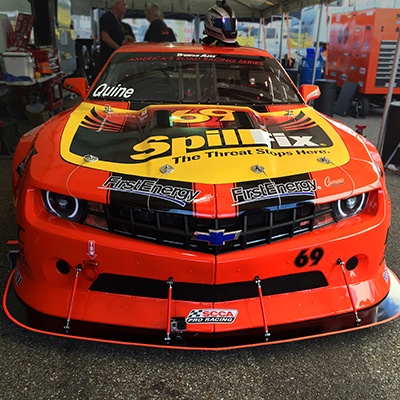 Useful in garage or workshop
Safe to use to clean greasy hands and tools.
Will remove baked on gunk from your garage or workshop floors.
SpillFix is a mechanics best friend.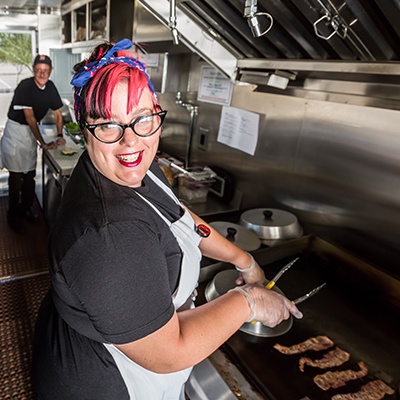 Great for cafes and events
Essential to have at events, arenas and fun parks where people are served food and drinks.
Absorbs all bodily fluids like blood, vomit and urine.
Great for nightclubs, bars and cinemas.
SpillFix can be used to absorb the following spilled materials:
Acetaldehyde
Acetic Acid
Acetic Anhydride
Acetone
Acrylic Paint
Aluminum Hydroxide
Ammonium Hydroxide
Antifreeze
Aviation Fuel
Automotive Fluids
Barium Hydroxide
BBQ Sauce
Battery Acid
Bleach
Blood
Bodily Fluids
Boric Acid
Brake Fluid
Calcium Hydroxide
Car Wax
Calcium Hypochlorite
Carbon Black
Castor Oil
Chlorine Water


Chloroform
Citric Acid
Clorox (Bleach)




Coolant


Corn Oil
Cottonseed Oil
Cresol
Dairy Products
Degreasers
Detergents
Drilling Fluids
Enamel Paint
Ethylene Glycol
Ethylenediamine
Fabric Softeners
Ferric Chloride
Floor Wax
Formic Acid
Fruit Juice
Fuel Oil Glycerol
Gorilla Glue
Grape Juice
Hydraulic Fluid
Hydrocarbon Fluids


Ice Cream


Italian Dressing




Juice Ketchup
Latex Paint
Laundry Detergent
Linseed Oil
Liquid Polymers
Lubricating Oil
Magnesium Hydroxide
Milk Mineral Oil
Motor Oil
Nitric Acid
Nutella Spread
Octane Oil
Oil Paint
Olive Oil
Orange Juice
Paint
Paint Thinners
Paraffin
Petroleum Ether
Phenol
Phosphoric Acid
Polymers


Power Steering Fluid


Propylene Glycol


Ranch Dressing Resins
Salad Dressing Sauce
Silicone Oil
Softeners
Sodium Bicarbonate
Sodium Bisulfite
Sodium Chloride
Sodium Hydroxide
Solvents Soup
Soy Bean Oil
Soy Milk
Spray Paint
Sucrose
Synthetic Motor Oil
Syrup
Tomato Sauce
Tannic Acid
Transformer Oil
Transmission Fluid
Turpentine Urine
Water
Wine
Wood Stain
Xylene
Natural, Organic, Eco-Friendly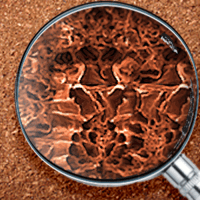 The Science
Unique highly absorbent natural sponge structure
Concentrated ability to soak in and capture liquids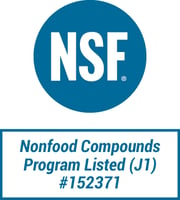 NSF Certified
NSF Certified as safe to use in food preparation, logistics and manufacturing.
Safe to use in restaurants, cafes,
canteens, and abattoirs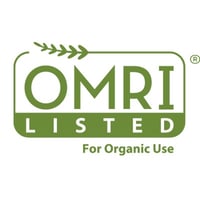 OMRI Listed
OMRI Listed for use as an organic input
People, Planet and Pet safe
SpillFix Environmental Life-Cycle
Created from a waste stream to reduce hazardous waste going to USA landfills.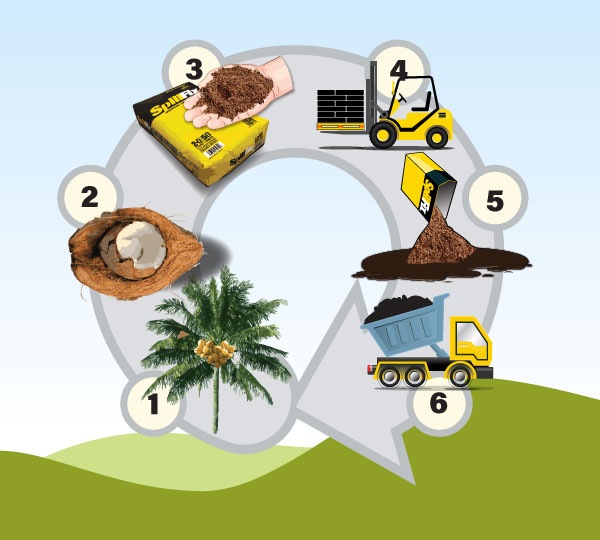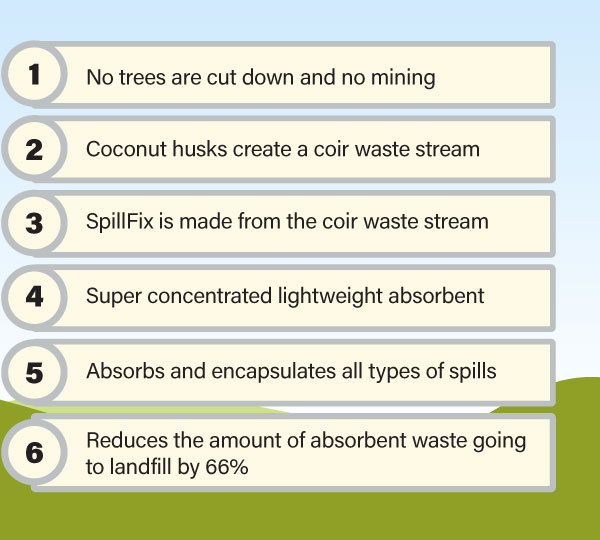 HOW TO USE SPILLFIX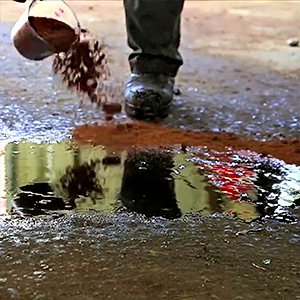 Stop spill from spreading
Spread around the spill to prevent it from getting larger.
Completely cover the spill with SpillFix.
No need to leave it sitting because SpillFix starts absorbing instantly.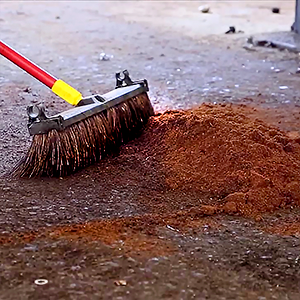 Sweep back and forth
Brush back and forth with a stiff broom or brush until all liquid is absorbed.
For sticky materials like paints and glues work the SpillFix in with a spatula.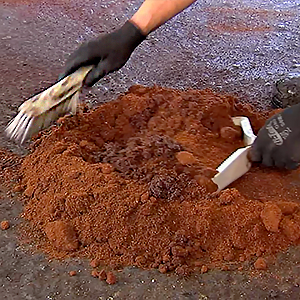 Sweep up and dispose
Sweep up into a dustpan to dispose.
Rub a little more SpillFix on the spill area to remove any residue.
If the SpillFix is not fully saturated and dark it can be reused.